The PUBLISH command creates the multi-page DWF,  DWFx, or PDF files. You can also use the command to batch plot to a plotter. This command gives you a lot of flexibility to choose which drawings to output.
Be sure to save your drawing before using the PUBLISH command.
Choose  Output tab > Plot panel> Batch Plot to open the Publish dialog box. The dialog box displays the model and layout tabs of the current drawing or all open drawings. To list only the tabs of the current drawing, uncheck the Automatically Load All Open Drawings check box in the Publish dialog box. (This is controlled by the PUBLISHALLSHEETS system variable.) If you see the Status message, "Layout not initialized," cancel and display the layout tab; then start the PUBLISH  command again.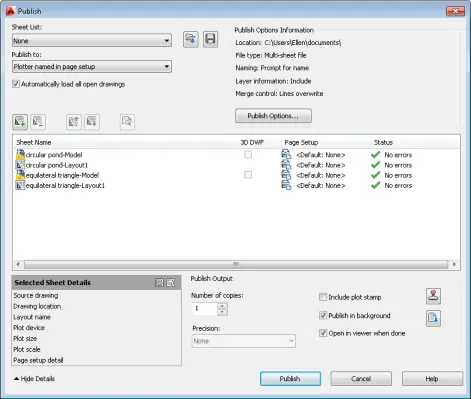 To add other drawings and layouts that you want to include in the drawing list. do any of the following: