This is a guest post by Khwaja Ibrahim. He is a Mechanical Engineer by profession and a CAD Engineer from Pakistan. His services range from designing for 3D Printing, Sheet Metal, Injection Molding and Manufacturing processes to providing Photo-Realistic Rendered Images.
He gets the utmost satisfaction in bringing ideas to life allowing him to demonstrate his creativity, designing and imaginative skills. As you can see, he also writes tutorials. This one is from 12CAD.com
---
By default design, AutoCAD's line is a single entity. This singularity of the line allows it to be treated as a simple drawing element without the leverage of more complex types. However, for those of you who may require such a feature, there is a way other than grouping different colored lines into one.
As said, by default the line is a simple element hence to replicate functionality not built-in, we need to setup the proper environment before we proceed with the actual development. See the below screenshots for a step by step explanation of the prerequisites of sawing multicolored lines.
Preparation
Step 1: Command: MLSTYLE. Use the command MLSTYLE to access the Multi-Style menu. When you press enter, the dialogue box should open up.
Step 2: View current profiles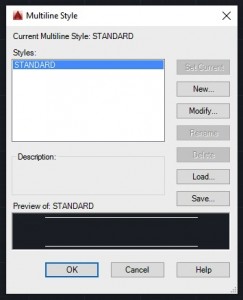 By default a "Standard" profile is defined for regular line drawing. This is also set to the current profile in selection. At any time, this one profile will be available if there are no other. Create a new profile as shown below.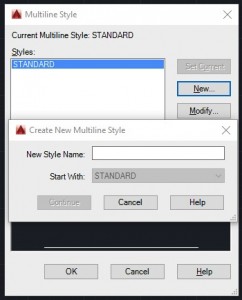 Step 3: Create a new Multi-Style profile Continue reading How to create multicolored lines in AutoCAD