Suppose that you want to rename some text labels. For example, you have some part numbers that start with G- and now you want them to start with J- or you want to change every instance of "box" to "rectangle".
First, it may be hard to find all of the instances of the text you want to change and if there are a lot of changes, it would be very time consuming to change each one individually. Instead, you can use the FIND command, which lets you find and replace text anywhere in your drawing. It finds the following types of text:
Single-line text
Multiline text
Text in tables
Block attributes
Dimensions
Hyperlinks and hyperlink descriptions

Choose Annotate tab, Text panel, Find Text, and enter the text you want to find in the Ribbon's text box. Then click the Find Text button or just press Enter.
The Find and Replace dialog box opens with the text you entered in both the Find and Replace text boxes.
You can use wildcard characters:
 * for any number of characters
? for any single character
# for any numeric character
In the Replace With text box, type the text that you want to replace the existing text.
Click the down arrow to expand the Find and Replace dialog box where you have more options, such as the types of text you want to search, matching case, finding whole words only, searching xrefs and blocks, etc. Here's the expanded dialog box.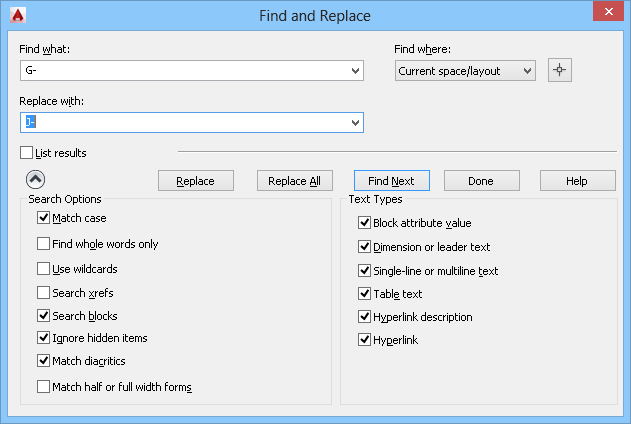 The Find Where drop-down list lets you specify where to find text:
If you selected objects before starting the command, the list displays Selected Objects. You can choose Entire Drawing.
You can click Select Objects to return to your drawing and select objects.
You can choose Current Space/Layout to look only on the current Model or layout tab.
Click Find or Find Next to zoom to the next instance of the text string.  Then click Replace or Replace All. You can check the List Results check box to list the results that have been found–this helps you make sure that you didn't change any text that you didn't want to change.
Click Done to close the dialog box when you're done.

How do you replace text globally? Do you use the FIND command for something else? Leave a comment!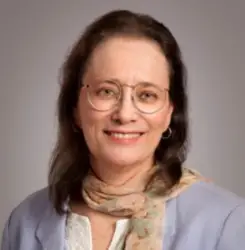 Latest posts by Ellen Finkelstein
(see all)