Recently, a reader asked how to plot to a specific scale from model space.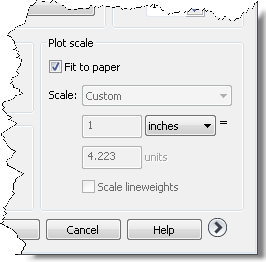 Ordinarily, I recommend plotting from paper space. You have better tools there for laying out your drawing and inserting a title block. But you can also plot from model space. In fact, this is the original method for plotting in AutoCAD, many years ago.
Here are the steps:
From the Model tab, click the Plot button on the Quick Access toolbar or choose Output tab, Plot. This starts the PLOT command and opens the Plot dialog box.
If necessary, choose your printer/plotter from the Name drop-down list.
Look in the Plot Scale section at the lower-right corner of the dialog box. By default, Fit to Paper is checked, as you can see on the right.
Uncheck the Fit to Paper checkbox.
Click the Scale drop-down list and choose the scale that you want. In the figure below, I chose 1/4″ = 1′-0″. This is a common architectural scale in the United States.
To check what the result will look like, click Preview. Click the X (Close) button on the Preview toolbar to exit the preview (although you can plot directly from this screen).
Click OK to plot.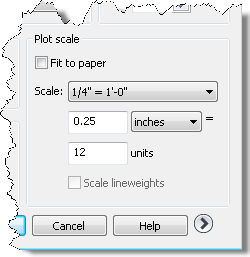 Do you plot from model space? If yes, why don't you use paper space? I'm just curious. Leave a comment!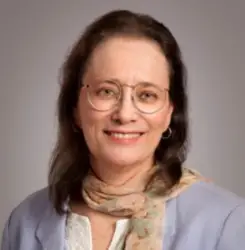 Latest posts by Ellen Finkelstein
(see all)