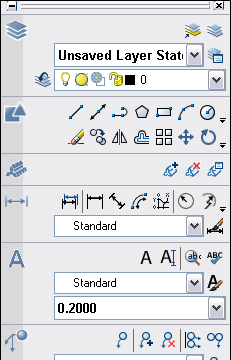 The Dashboard was introduced in AutoCAD 2007 for 2D tools and expanded in 2008 for 3D tools. Starting with 2008, it is also customizable.
The Dashboard has a little-known feature that lets you quickly display an associated tool palette. This tip works in both AutoCAD 2007 and 2008.
Each control panel (section) in the Dashboard has an icon at its upper-left corner. One feature of the icon is that it expands and collapses those control panels that are expandable. When you expand a control panel, you see additional tools. When you pass the cursor over the control panel, you also see a double-down arrow at the lower-left corner, which accomplishes the same task.
However, clicking the icon does something else; if the Tool Palette window is open, it displays a related tool palette (a tab of the window), if there is one.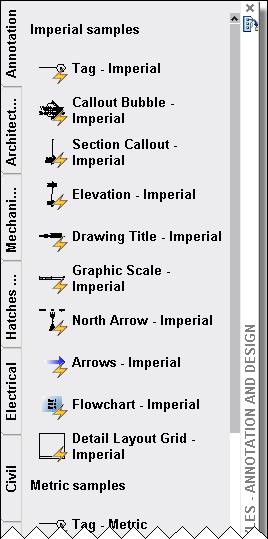 For example, if you click the Annotation Scaling icon

, AutoCAD displays the Annotation tab of the Tool Palette window.
In cases where there is a tool palette group defined, you'll get the last-used tab of that group. For example, there is a 3D Make group that has Modeling, Draw, and Modify tabs. When you click the 3D Make control panel, you see the last of those 3 tabs that you displayed.
Remember that the Tool Palette window must be open for this technique to work.
Here's a list of the control panels and which tool palette or group they open:
2D Workspace
| | |
| --- | --- |
| Layers | None |
| 2D Draw | None |
| Annotation Scaling | Annotation |
| Dimensions | None |
| Text | None |
| Multileaders | Leaders |
| Tables | Tables |
| 2D Navigate | None |
3D Workspace
| | |
| --- | --- |
| Layers | None |
| 3D Make | Last used tab of 3D Make group |
| Visual Styles | Visual Styles |
| Lights | Generic Lights |
| Materials | Last used tab of Materials group |
| Render | None |
| 3D Navigate | Cameras |
Thanks to Shekhar Khedekar and Alex Bicalho of Autodesk for some of the information in this tip.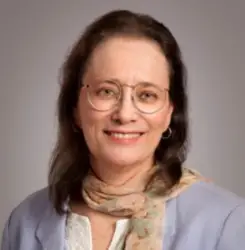 Latest posts by Ellen Finkelstein
(see all)