This is a guest post by Sanjay Kulkarni, an AutoCAD programmer. You can read more about him at the end of this post.
The number of mouse-clicks required to perform a task is generally a good indicator of productivity. The fewer the number of clicks, the less time required–hence more productivity.
In this post we will see an example of reducing the number of mouse-clicks, and thus improving productivity, using AutoLISP. We will use the example of the FILLET command.
Thanks to one of the blog readers Bruce Newman, who sent a problem to me. It was the source for this post.
The most simple situation where you create a fillet is when two perpendicular lines meet. Inside the FILLET command, you select the two lines (requiring 2 clicks) and AutoCAD creates the fillet.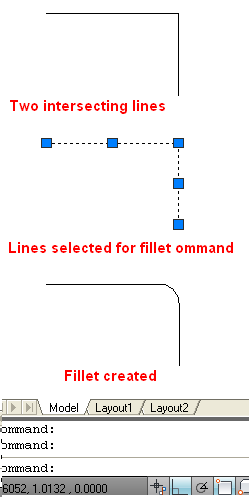 The equivalent AutoLISP code would be
(command "fillet" (car (entsel "\nSelect the first line: "))(entsel "\nSelect the second line: ")))
This still requires two clicks.
So, the problem now reduces to finding a method to select two lines with a single click.
Before trying in AutoLISP, let's find out if we can do it manually. There seems to be no option or a work-around to do what we want.
Luckily, we have a single point (the intersection) that is common to both lines. So, let's explore if we can somehow use the intersection point to select the 2 lines. If you have to click only one point to select multiple objects, obviously it should be the intersection point.
Study of selection methods shows that there are two options that base their selection on two points: crossing & window. Since W must include the objects fully, it won't be suitable. So let's try C option.
Use the SELECT command and then the c option and click on the intersection point in response to both points. AND …….. Both lines are selected!
The equivalent AutoLISP code would be
(setq ssLines (ssget "c" (setq pt1 (getpoint "\nSelect Intersection: ") ) pt1))
Now I can use each line to create a fillet.
(command "fillet" (ssname ssLines 0) (ssname ssLines 1))
And yes … the fillet appears!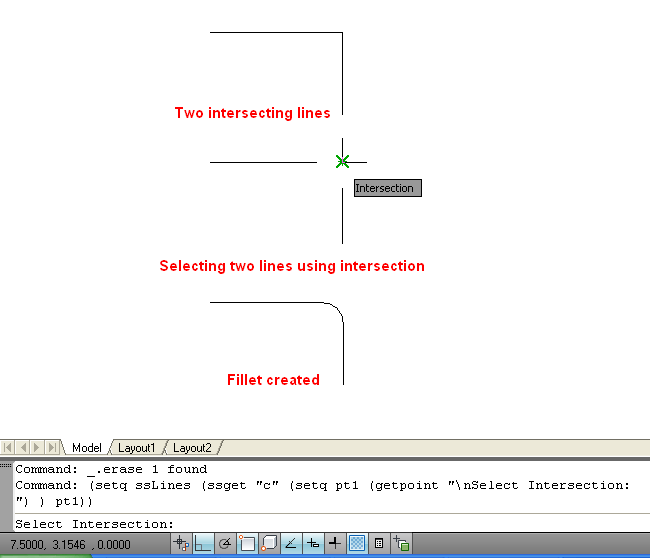 So, here is my simple program:
(defun c:FiletByPt ()
;;; creates fillet by single click
;;; ssk 110918
(setq ssLines (ssget "c" (setq pt1 (getpoint "\nSelect Intersection: ") ) pt1))
(command "fillet" (ssname ssLines 0) (ssname ssLines 1))
)
(prompt "\nCreates a fillet by single click. Type 'FiletByPt'")
Note: In the command name above, FiletByPt, "fillet" is intentionally spelled "filet" to avoid confusion as you start to type the custom AutoLISP command.
To use the above code, copy and paste it into Notepad and save it as filetbypt.lsp in a location that is in AutoCAD's support file search path. Instructions for loading the program are here.
However life is always not so simple. The lines may extend beyond the intersection point. My R&D shows that the above code still works as shown in Fig. 3.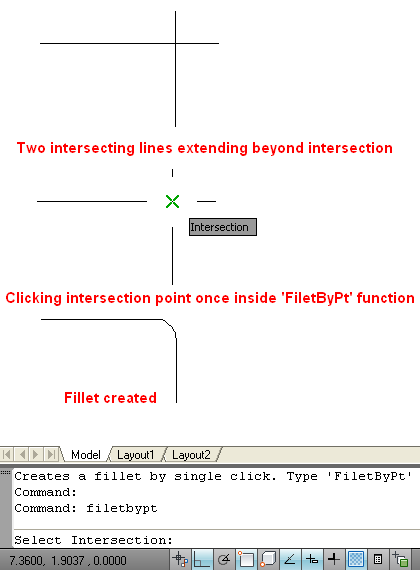 It even works when the two lines are not perpendicular.
When two lines are selected using a single point, AutoCAD finds and trims shorter segments of each line and then creates a fillet between the two remaining segments.
There might be situations (when two lines meet at the midpoint) where the code may not work or possibly needs modification.
But, if creating fillets is a major task for you, and saving 50% of time can result in significant gain, go ahead and use this code.
Are you stuck-up with such trivial tasks that are strain on your resources? Let me know and we'll see if I can help you with useful hints or sample code.
Sanjay Kulkarni is an experienced CAD (AutoCAD, Inventor, SolidEdge, CATIA, NX) programmer and a member of the Autodesk Developer Network. He is fluent in AutoLISP, VBA, and VB.NET. He has written for AugiWORLD and Inside AutoCAD. He can be contacted at sanganaksakha@gmail.com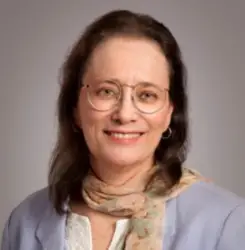 Latest posts by Ellen Finkelstein
(see all)