Do you have REALLY old AutoCAD drawings? Many people keep drawings for years and years. But some older settings may make editing difficult. Here are some ideas for updating your old drawings.
Blocks without previews or descriptions
In older versions of AutoCAD, blocks didn't have previews, like the kind you now see in the DesignCenter or ContentExplorer. You can also use them in the Tools Palette.
You can use the BLOCKICON command and press Enter at the first prompt to automatically create preview icons of all the blocks in a drawing.
Also, you can navigate to the drawing in DesignCenter, click the Blocks item, and AutoCAD will automatically generate block previews.
Associative dimensions
Before AutoCAD 2002, dimensions weren't associative. That means that they weren't really connected to the objects they measured. Now, the DIMASSOC system variable is set at 2 by default, which creates associative dimensions. The dimension is all one object and if you edit the object it measured, the dimension automatically adjusts to the new measurement.
If you open an older drawing (or one that uses an older template), set DIMASSOC to 2 by typing dimassoc, pressing Enter, typing 2 and pressing Enter again. But that will only take care of new dimensions that you draw.
To attach existing dimensions to their objects, use the DIMREASSOCIATE command:
Go to Annotate tab,  Dimensions panel (expanded), Reassociate.
At the prompt, select the dimensions that you want to reassociate. You can use the Dissasociated option to select all dimensions that aren't associated with an object.
Follow the prompts, which vary according to the type of dimension. You'll be specifying an association point on the measured object to connect it to the dimension. You'll see an association point marked by an X.
Continue to follow the prompts for each of the dimensions.
I have more specific instructions in my older post, "Dimensions and associativity."

What settings do you suggest changing for older drawings? Leave a comment!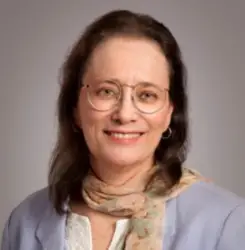 Latest posts by Ellen Finkelstein
(see all)