There are several ways to export a drawing to a PDF file–I have links to some other related tips below. But  most don't have a way for you to specify your scale, because they aren't connected to the plotting process.
Instead, you can plot to a PC3 file that creates a PDF file. This method gives you the opportunity to specify your scale.
Follow these steps:
Set up your viewport to the scale you want.
With the viewport's layout tab still displayed, choose Output tab> Plot.
In the Plot dialog box, from the Printer/Plotter drop-down list, choose DWG To PDF.pc3.
From the Paper Size drop-down, choose the paper size you want.
Specify any other settings you want.
Click OK.
AutoCAD opens the Browse for Plot File dialog box, where you can specify the PDF file's name and location.
Click Save.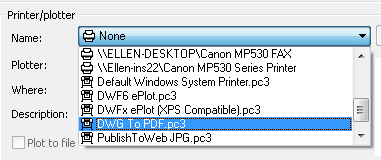 Your drawing goes through the plotting process and you'll see the Plot Notification balloon at the lower-right corner. You can click the balloon's link to see the Plot and Publish Details window.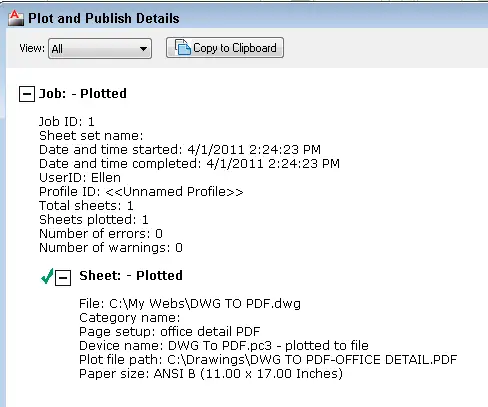 Saving your layout setup
You can create a plot setup with these settings. Then you can apply that setup any time you want to output a PDF file for a layout. Follow these steps:
Right-click the layout tab and choose Page Setup Manager.
Click New, name the setup and click OK.
In the Page Setup Manager dialog box, specify your settings as you would in the Plot dialog box.
Click OK.
When you're ready to plot, open the Plot dialog box. From the Plot Setup drop-down list, choose your plot setup.
Find out more about creating PDF files:
Steps done in AutoCAD 2011.
Do you create PDF files from your drawings? What method do you use? Leave a comment!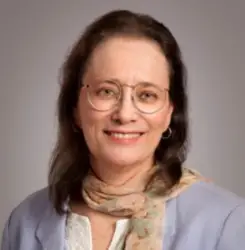 Latest posts by Ellen Finkelstein
(see all)