Dimensioning in paper space has several advantages:
You don't have to worry about the size of the dimension arrowheads, text, etc. Everything is full size and you plot at 1:1 scale.
You can place the dimensions outside the border of the viewport, giving you more room.
You can easily dimension some parts of the model in one viewport and other parts in another. You don't have to create separate layers and freeze some of them.
If you have a

3D model

, you'll be showing it at different angles in the viewports and you can dimension appropriately. It's almost impossible to properly dimension a 3D object in model space.
If you've been dimensioning in model space, give it a try. Here are the steps:
If you haven't already done so, create a text style.
Create a dimension style in the Dimension Style

Manager

.
On the Fit tab, choose the Scale Dimension to Layout option.
Create a layer for your dimensions in paper space.
The Trans-Spatial dimensioning feature (since Release 2002) automatically adjusts dimension measurements for the scale of the viewport. You can just go to your layout and dimension as you would in model space.
If you move the viewport, or pan the view, use DIMREGEN to get your dimension back to its proper location. Occasionally, you may need to use DIMREASSOCIATE to reassociate the dimensions to their objects.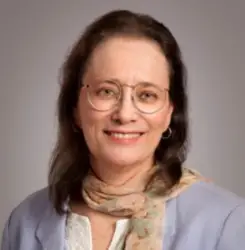 Latest posts by Ellen Finkelstein
(see all)