When you create a layout, including viewports, a title block, text, and so on, you can save it as a template to use in the future. If you would sometimes like to use a layout from a different drawing, one that isn't included in your drawing's template, and therefore not available to you in your drawing, then the LAYOUT command is ideal.
You can specially save a layout as a template, or you can use a layout from any existing drawing or template. What's special about using templates in this way is that you get only the layout and its objects, layers, and settings; you don't import any model space objects, block definitions, layers, and so on. So it's a clean way to use existing layout in your current drawing and you don't need to purge unwanted definitions.
Save a layout template
First, name the layout tab, because a name of Layout1 won't be very helpful.
When you create a unique layout that you might want to use at another time, enter layout on the command line. At the prompt, use the SAveas option, and enter the name of the layout.
Enter layout option [Copy/Delete/New/Template/Rename/SAveas/Set/?] <set>: sa
Enter layout to save to template <3-detail>:
The Create Drawing File opens, with the Template folder automatically selected and the template file type specified. Enter a name for the template, perhaps the same as the name of the layout, and click Save.
Use a template layout
To use a template layout, right-click a layout tab, and choose From Template.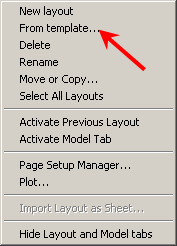 In the Select Template from File dialog box, choose the template that you want and click Open.
In the Insert Layout(s) dialog box that opens, choose the layout that you want, and click OK. AutoCAD creates a new tab with the same name, settings, and objects as the source layout.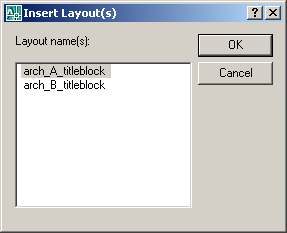 Note: You can choose any drawing file, not only a template.
Note: If the viewport layers are frozen in the template or other drawing, they'll come in to your drawing frozen.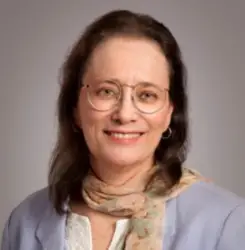 Latest posts by Ellen Finkelstein
(see all)