Whether you receive drawings from others or just need to fix up some sloppy work created in-house, you sometimes need to change layer names and properties for objects in your drawings so that they match your layer standards.
A great way to do this is to use the LAYTRANS command, that is, the layer translator. You specify sets of Translate From and Translate To layers based on existing drawings. For example, if you have a drawing with  Layer1 (bad form!), you can translate it to the OBJECT layer. This process is called layer mapping.
Set up layer mapping
If the layer names in your current drawing are meaningless to you, I recommend that you start by writing down how you want to map these layers. That's because the dialog box you'll be working in doesn't give you any information except for the names. You can't tell which color a layer is, for example.
From the drawing that you want to change, choose Manage tab> CAD Standards panel> Layer Translator (the LAYTRANS command). The Layer Translator dialog box opens.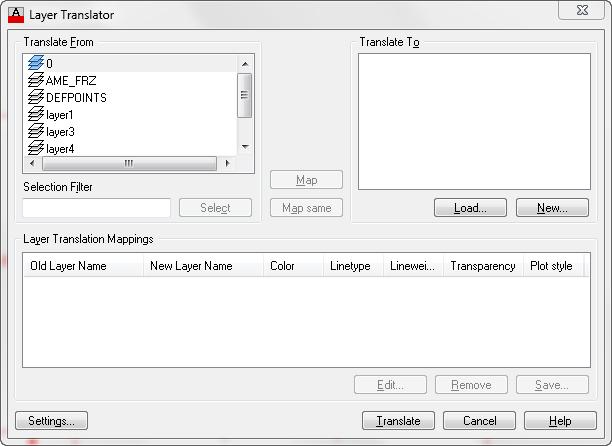 In the Translate From box, you see the layers in your current drawing.
In the Translate To box, you can create new layers by clicking the New box, but usually you'll click Load, navigate to another drawing that has the layers you need and use those. Then, you'll see the layers you need in the Translate To box.
To map a layer, click it in the Translate From box. Then click the layer your want to map it to in the Translate To box. Finally, click the Map button. You can select multiple layers in the left-hand box to map them all to one layer in the right-hand box. When you're done, you'll see the layer mappings in the bottom box.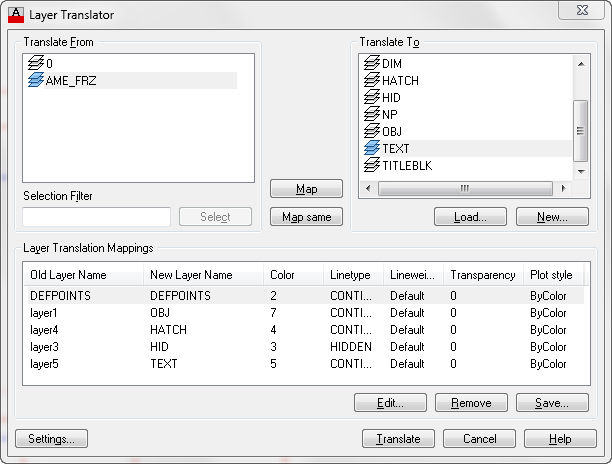 You can make changes by clicking the Edit or Remove button. You can save your layer mapping to a Drawing Standards File (.dws) or a drawing file. In fact, if you don't save it, AutoCAD will prompt you to do so.
Finally, click Translate.
Do you use this Layer Translation feature? Leave a comment!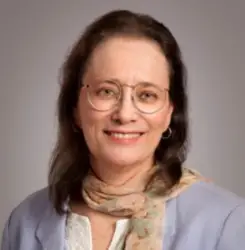 Latest posts by Ellen Finkelstein
(see all)