Use AutoCAD's calculator (originally the CAL command and then the QUICKCALC command) to find calculated points, such as the midpoint between two existing points or the center of a triangle. You usually use this command transparently, while drawing a line.
Use the object snap
There's a shortcut to start a line (or specify any other point) midway between two points. At the prompt for the point, press and hold Shift and right-click. Then choose Mid Between 2 Points from the shortcut menu of object snaps.
Use QUICKCALC to draw a line between two endpoints
To start a line midway between two points with QUICKCALC, do the following:
Turn off OSNAP, so you don't inadvertently snap to an object snap, especially if you're near other objects.
Start the LINE command.
At the Specify first point: prompt, type 'quickcalc (or just 'qc) and press Enter.
In the expression box, type (end+end)/2 as you see here, and then press Enter.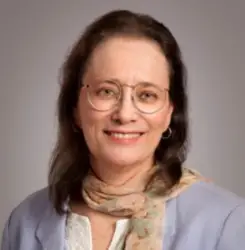 Latest posts by Ellen Finkelstein
(see all)