The CHAMFER command makes mitered (angled) corners, like the one below.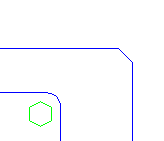 However, you can also use the CHAMFER command to extend lines to meet and make right-angled corners. In other words, you can use the command to turn the situation on the left to the situation on the right.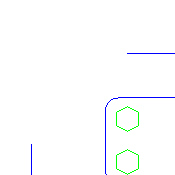 You do this by setting the Distance and Angle options to zero.
When you start the command, it lists the current settings:
Command: _chamfer
(TRIM mode) Current chamfer Length = 1.0000, Angle = 45
Select first line or [Undo/Polyline/Distance/Angle/Trim/mEthod/Multiple]:
In this example the Distance option (which shows as Length) is 1 unit, and the angle is 45°. To create a square corner, use the Distance option and set both distances to 0. (You can specify a chamfer with two distances, rather than with a distance and an angle.) Then use the Angle option and set its value to 0. Then select both lines near their endpoints to get a square corner.
But that's a lot of setting. Instead, you can quickly and temporarily override any non-zero settings by selecting the first line, and then pressing Shift as you select the second line. Presto! Instant square corners.
You could also use the EXTEND command (or the TRIM command with the Shift key), but the CHAMFER command is faster.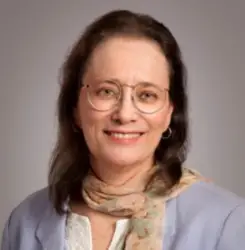 Latest posts by Ellen Finkelstein
(see all)