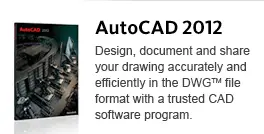 If it's February or March, you can count on a new release of AutoCAD, so 2012 is here! Below you'll find my annual new feature review. You'll find a couple of big features, but mostly a wide variety of smaller features that will make your drawing easier.
New Arrays
Arrays have been completely reworked. The major differences are:
Interactive/command line creation (not in a dialog box)
Associative arrays (not individual, unconnected objects) for easy modification
A new Array tab for editing arrays
Arrays along a path
3D arrays with the ARRAY command. (You can add levels.)
This video shows how you create arrays in 2012.
This video shows you path arrays.
Also, the COPY command has a new Array option to create a linear non-associative array.
Conclusion: It might take you some adjustment to get used to the new interface, but the additional features are worthwhile. Being able to modify arrays without having to redo them from scratch is a great benefit.
AutoCAD WS-Online drawing storage
AutoCAD WS is a place to store drawings online, much the same way you can store Microsoft Office documents using Microsoft Office Web Apps or Google Docs. You can sign up for a free account and upload drawings. Once you are logged into your account, you can instantly open a drawing online–that is, you click a button and the drawing that you have open in AutoCAD appears in WS in your browser.
You can view uploaded drawings in your browser or on a mobile device at any time. You can share your drawings with others.  You can even get a URL link so that you can share drawings with people who don't have a WS account.
AutoCAD WS includes a number of basic drawing and editing tools. You can draw most basic shapes and perform most simple editing commands. When you click on an object, a sampling of tools appears next to the selected object.
Here you see a drawing displayed in AutoCAD WS.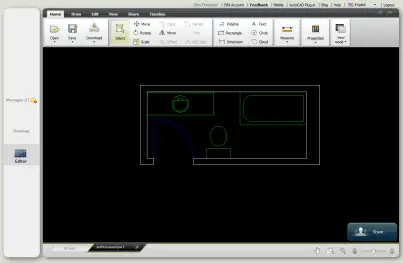 Conclusion: Online sharing is the current wave and you can use WS to view drawings wherever you are–for example, on a building site. You should definitely try out WS to see if it will fit into your workflow.
Better snap mode
Have you ever thought that Snap Mode would be great for drawing but found it too annoying to keep on while selecting objects? Now, Snap Mode restricts your cursor only when you are specifying points. So, if you're editing and want to select an object before choosing a command, or if you have a Select objects: prompt, your cursor will go wherever you want it to.
Conclusion: Why didn't they do this earlier? This new behavior immediately feels right.
Nudge objects
Sometimes, you don't need perfect accuracy; you just want to move an object a wee bit. Now you can nudge selected objects by holding down the Ctrl key and using any of the 4 arrow keys. Objects move 2 pixels each time you press the arrow key. If snap is on, they move the specified snap increment.
Conclusion: There's a definite trend toward working with objects directly, without using a command. Nudging is familiar from many other programs, so it's nice to have it in AutoCAD finally.
Delete duplicate objects
The OVERKILL command now has a button at Home tab>Modify panel (expanded). It deletes overlapping and duplicate objects. When you click the button, the Delete Duplicate Objects dialog box opens, where you can choose to ignore certain properties, decide if you want to combine partially overlapping colinear objects and more.
Conclusion: You should always clean up your drawings, so OVERKILL is nice to have.
New Pickauto setting
How many times have you tried to select objects with a window in a crowded drawing and picked on an object instead? Then you had to deselect the object and start over. The PICKAUTO system variable has a new setting, 2. PICKAUTO determines automatic windowing when you try to create a selection/crossing window before starting a command. The new setting causes object selection to occur only when you release the mouse button (rather than when you press it). So, if you click and drag (instead of clicking two opposing points), you can click on an object but not select it.
Note that the default setting is still 1, so you have to type pickauto on the command line and change the value to 2. Then you'll need to get used to the fact that you can click and drag.
Watch the video, because you really have to see this to understand it.
Conclusion: I think you'll like it! It will take a while to catch yourself before letting go of the mouse button so that you can drag, but once you get used to it, you'll be able to avoid some frustration when selecting objects.
WBLOCK has its own button!
WBLOCK is the command that lets you save a block as a drawing. People have been asking AutoCAD to give this command respect for a long time and it finally happened. Go to Create Block drop-down list> Write Block. OK, it's hard to find, but it's there.
Content Explorer
The Content Explorer is supposed to be the next generation of the DesignCenter. You can do most of the things you can do with the DesignCenter, but not all. For example, you can't insert images. The advantage is that it indexes folders that you specify for faster searching. There's a complementary program, Autodesk Content Service, that you install on other, networked computers, to making searching faster on the network. You lose the "tree" format pane of the DesignCenter, which can be frustrating. In other words, you search for keywords, such as names of layers or text styles, instead of browsing.
Open the Content Explorer by going to the new Plug-Ins tab and choosing Explore. You start by clicking the Configure Settings button at the lower-left corner and then clicking Add Watched Folders in the dialog box that opens. Initial indexing takes a very long time, but when it's completed, search is pretty quick.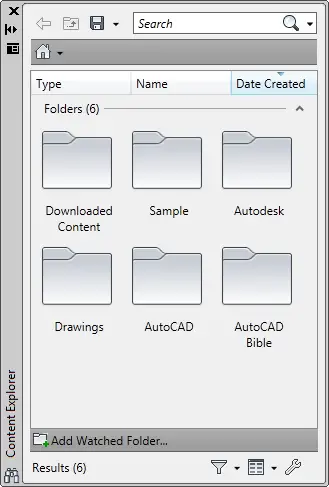 Conclusion: I don't do much searching over my 2-computer network, so it's hard to me to judge. Right now, I still prefer the DesignCenter.
New multi-functional grips
AutoCAD 2011 introduced multi-functional grips for polylines. Grips are now multi-functional for lines, arcs, ellipctical arcs, dimensions, and mleaders in 2D and for 3D faces, edges, and  vertices in 3D. The new arrays also have multi-functional grips. To use multi-functional grips, select an object and hover the cursor over a grip to see the options. To choose an option, choose it from the list of options. You'll then see appropriate prompts. For example:
Line or arc endpoint: You can stretch or lengthen.
Arc midpoint: You can stretch or specify the radius.
Dimension endpoint: You can stretch, start a Continue or Baseline dimension, or flip the arrow.
Dimension midpoint: You have a number of choices for text placement.
Array upper-left arrow grip: You can change the row count, total row spacing,  or axis angle. (Arrays have several types of multi-functional grips.)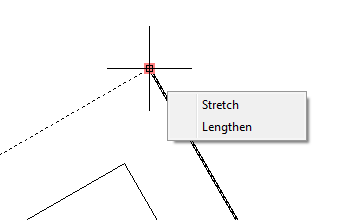 Conclusion: I really like multi-functional grips. They are part of the trend toward direct manipulation of objects, without having to execute a command.
New interface for creating groups
I don't know how many people use groups, but they've been around for a long time. They're now much easier to create and the Home tab has a new Group panel. To create a group, just go to Home tab> Group panel> Group. At the prompt, select the objects for the group. If you want, use the Name and Description options to specify a name and description. A name is probably a good idea. That's it.
Other buttons in the Group panel let you ungroup objects, turn object selection on and off (to temporarily let you select individual objects), and edit groups.
Conclusion: I don't use groups much, but they're definitely easier to work with now.
Quick Properties window
The Quick Properties window is now the default when you double-click most objects. Previously, the Properties palette opened.
Fillet and chamfer preview

How many times have you created a fillet or chamfer and discovered that the radius was wrong? Then you had to redo it. Now, you get a preview before you commit. For example, start the FILLET command and set the radius. At the first prompt, select the first object to fillet. At the second prompt, hover over the second object, and you'll see a preview, as you see here.
You can also now fillet splines.
Conclusion: Sweet!
Direct manipulation of the UCS icon
Continuing the trend to working without having to use a command, you can now change the UCS (User Coordinate System) by directly manipulating the UCS icon. You can move it, rotate it, and more, using its grips.  Use its right-click menu for more options.
Conclusion: SO much nicer than the UCS command!
Preview for lofts and more
We're now moving into 3D features. Just as you can see a preview for fillets and chamfers, you can see one for the following 3D objects: loft, surfblent, surfpatch, surfillet, filletedge, chamferedge.
Conclusion: Previews really save you time because you have to undo your mistakes less often.
New 2D view object to view 3D models in 2D
Over the years, there have been many techniques for viewing 3D models in 2D. Among them are the following:
Now comes a new method. The 2D view object is  a new object type. A 2D snapshot of your model at the moment you create the view object. It isn't dynamically linked to the model, but if you change the source model, you can update your views. You can use 2D view objects to import 3D models from other applications, including Inventor. Here, I'll just cover them for use within AutoCAD.
You display view objects on a layout, but not in a viewport. The VIEWBASE command creates the view objects and there are several related commands as well. The command creates two related orthogonal views, such as a top and a front view. You can also create isometric views. Watch the video.
Conclusion: They are a little clunky, but I'm hoping they'll become more flexible. It's a start to what may become a useful feature.
New BLEND command
The BLEND command creates splines between lines, arcs, polylines, splines, helixes and elliptical arcs. It's like a fillet, but it's a spline, not an arc.  You can control the bulge of the curve using the Continuity option. In this video, I just use the default setting.
Viewport settings for controls, viewpoint and visual style
At the upper-left corner of the viewport/drawing area, are easily accessible settings for viewport controls, viewpoint, and visual style. Here you see the viewport control drop-down list. Just click the drop-down list you want and choose one of the options.
Conclusion: I like having the settings right in the viewport and not having to search for them on the ribbon.
What do you think?
Let me know what you think! Please add a comment! Which feature seems most useful to you?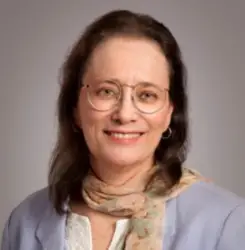 Latest posts by Ellen Finkelstein
(see all)