A hyperlink in an AutoCAD drawing can link any drawing object or objects to a URL, any file, or a location in a file (such as a named view in another drawing). If you haven't been using hyperlinks, consider doing so, as they offer lots of possibilities. Examples of files you can link to are bills of materials, price lists, detail drawings, part specifications, etc.
When you create hyperlinks in your drawing to these other documents, your drawing can become almost like a Web page.
To create a hyperlink, select an object and use the HYPERLINK command. (You can also press Ctrl+K or choose Insert tab> Data panel> Hyperlink.) The Insert Hyperlink dialog box opens.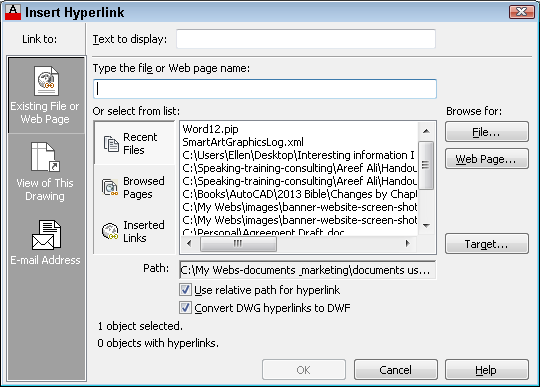 To link to a file, click the File button, select the file, and click Open. You can also type a URL, or browse to it using the Web Page button.
Now, when you hover the cursor near the object, you see a web cursor.
Using a hyperlink in a drawing is a little different from using one on the Internet. In a drawing, if you click the hyperlink, you just select the object. Duh! There are two ways to open the hyperlink:
Press Ctrl and click, but this doesn't bring the new file to the fore, so you have to find it on the Windows taskbar
Select the object, right-click and choose Hyperlink> Open. This brings the new file to the fore.
If you send AutoCAD drawings to clients or contractors in electronic form, be sure to send the supporting documents (that you hyperlinked to) electronically as well.
Here are some issues to be aware of:
Hyperlinks aren't obvious unless you hover the cursor over them. You can add text that says, "Click here for parts specs" and make that text a hyperlink to the document containing the parts specs. For fun, you can underline text to make it look like a hyperlink.
You may need to communicate to the user how to use the hyperlink, that is, press Ctrl+click or select the object, right-click and choose Hyperlink > Open.
Have you used hyperlinks? How did you find them helpful? Do you have any tips for using hyperlinks? Leave an answer in the comments!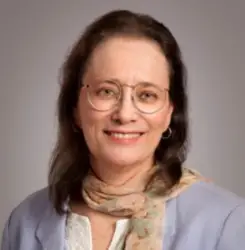 Latest posts by Ellen Finkelstein
(see all)