Suppose that you want to quickly change the layer of all objects on your WALL layer. Or, you want to change the linetype of all blocks named "dormer" that use the Hidden linetype. Here's a quick way to select the objects you need.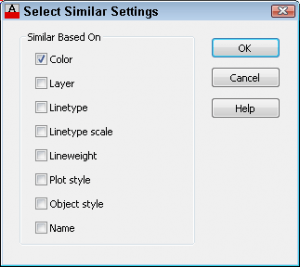 The SELECTSIMILAR command (starting in AutoCAD 2011) allows you to select objects in a drawing that are similar to a selected object. Follow these steps:
To use the default settings, select one or more objects, then right-click and choose Select Similar from the shortcut menu.
Or, to specify set5tings, type selectsimilar, press Enter, and select one or more objects. Press Enter to end selection. At the Select objects or [SEttings]: prompt, use the Settings option to open the Select Similar Settings dialog box.
Choose the properties you want for similarity.
Click OK to close the dialog box and select the objects.
Start an editing command. The objects remain selected so you can apply that command to the selected objects.
Using the SELECTSIMILARMODE system variable
The SELECTSIMILARMODE system variable lets you preselect which settings AutoCAD uses when you select an object and use the SELECTSIMILAR command without opening the dialog box.  The value is a bitcode, which means that it is the sum of the options you choose. The default is 130, which is 2 (layer) + 128 (name).
Here are the bitcode values you can use:
| | |
| --- | --- |
| 0 | Object type |
| 1 | Color |
| 2 | Layer |
| 4 | Linetype |
| 8 | Linetype scale |
| 16 | Lineweight |
| 32 | Plot style |
| 64 | Object style, including text styles, dimension styles, and table styles |
| 128 | Name, for referenced objects including blocks, xrefs, and images |
Quick Select is another way to select similar objects. I explain the Quick Select feature in my tip, "Use Quick Select to select objects in your AutoCAD drawing."
Do you need to select similar objects? Which method do you use? Leave a comment!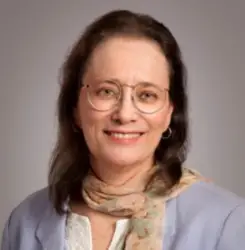 Latest posts by Ellen Finkelstein
(see all)