Sometimes you need a list of layers to quickly see all the layers and their status in a drawing. You can share it with colleagues. For a simple method, follow these steps:
Type -layer on the command line.
Choose the ? option to get a list of layers and press Enter.
Press F2 to open the Text Window.
Select the layer list.
Right-click and choose Copy.
Open a text editor such as Notepad. (Start > Run. Type Notepad and click OK.) You can use

Microsoft Word

or another word processor, but the columns won't line up as nicely.
Press Ctrl+V or choose Edit>Paste.
Choose File>Print.
If you want to share layers and layer states (settings) with others, save a Layer State file. Choose Layer Properties Manager, click Save State. You can export this file and send it to others. They can import the file to reset layers and their states.
Mike Pool sent me a tip from an associate of his, Jeff Mohr — another way to get a list of layers and their properties. Open the Layer Properties Manager and select the layers you want to list (or press Ctrl+A to select them all). Press Ctrl+C, open Microsoft Excel, and press Ctrl+V. You'll get a nicely laid out list.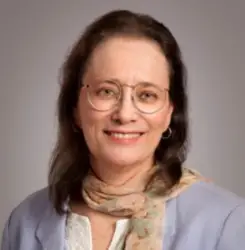 Latest posts by Ellen Finkelstein
(see all)