Ralph, a subscriber to my AutoCAD Tips Newsletter, sent me a drawing that he called "an embarrassment." He wouldn't explain the details of why he thought it was so bad, but wanted some advice about how to fix drawings that have been revised over many years.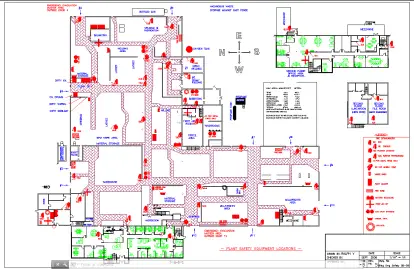 Old system variables
Some of the issues could be related to old system variables. For example, in this drawing, DIMASSOC is set to 1, which creates non-associative dimensions. That means that when the dimensions objects are edited, the dimensions don't update automatically. AutoCAD has offered associative dimensions since Release 2002, but if the drawing was created before then, you'll see non-associative dimensions.
You should fix this by changing the value of DIMASSOC to 2 and then using DIMREASSOCIATE to associate the dimensions to their objects. I explain this process in my post, "Dimensions and associativity."
Objects not set to ByLayer
You may find objects that are not set to ByLayer and want to fix them. The easiest way to do that for the entire drawing is to use the SETBYLAYER command. At the Select objects: prompt, type All and press Enter. Then follow the prompts for ByBlock and blocks.
Warning: This may change your drawing a lot if you have many objects that aren't set to ByLayer. For example, in this drawing, fire extinguishers were on the Safety Equipment layer, which had a black color. But they had all been set to have a red color. You might want to simply change the color of that layer. Or you might find that you need to change the layer of many objects.
I have a tip that goes into the SETBYLAYER options more in detail–"Maintain standards by returning objects to ByLayer settings."
Text and dimensions on multiple layers and styles
Remember the ROMANS,  ROMAND, and SIMPLEX text styles? Older drawings still use them. Over the years, text styles may have changed, but older text probably wasn't updated. The same is true of dimension styles. Text and dimensions may be on various layers, as well.  For example, most of the text in this drawing is on the TEXT layer, but there's a section of text that's on a layer called TRIVIA.
Finding all of the exceptions can be tricky. One way is to create a Standards file and test the drawing against it. That will be the topic of a future tip, but for now, I'll discuss some less automated techniques.
You can use the QSELECT command to find objects that meet certain criteria. I have a post on the topic, "Use Quick Select to select objects in your AutoCAD drawing."  (It includes a video tutorial, so check it out!)
For example, you can find text that is set to a specific color. Then, you can isolate that text, meaning that you hide everything else. This process helps you find the objects that you need to fix.
Here is a section of the drawing.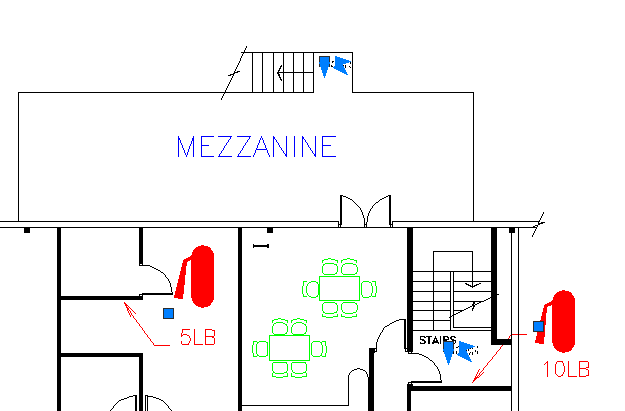 Let's say that most of the Mtext is on ROMANS. I might want to find text that uses another text style.  I would type qselect on the command line and complete the dialog box like this: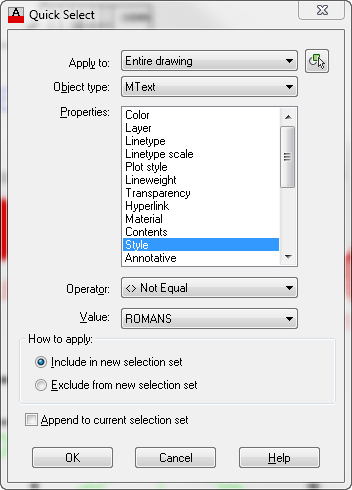 After clicking OK, Mtext objects that don't use the ROMANS text style would be selected.
Then, I would use the Isolate feature.  To do so, right-click and choose Isolate, Isolate Objects, as you see here.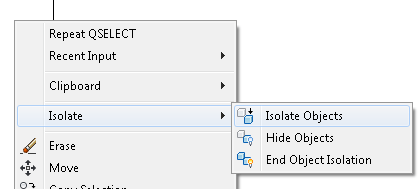 Here's the result in the drawing—a couple of words that don't use the ROMANS text style. When I select them and look in the Properties palette, I see that one uses the Standard style and the other uses the ROMAND style. Since they're selected and isolated, it's easy for me to use the Properties palette to change their style to ROMANS. There are lots of other possible drawing problems–title blocks on the Model tab instead of on a Layout tab, hatches using the wrong scale–the list could go on and on.
Have you had to bring  old drawings into shape? What techniques did you use? Please leave a comment so others can benefit from your experience!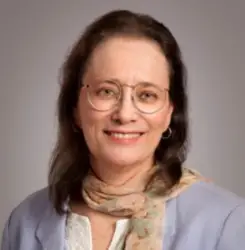 Latest posts by Ellen Finkelstein
(see all)