Do you create large drawings? If so, you probably spend a lot of time panning and zooming. Named views, which are pre-saved displays of part of your drawing, can help! A view can show any area of your drawing at any zoom value.
For the purpose of this tip, I'll stick to views that you save in model space, but you can save views on a layout, too.
When you travel, you like to see beautiful views like the one shown here. AutoCAD views have their own kind of beauty, because they help you draw and edit more quickly.
Create a named view
To create and save a named view, follow these steps:
Display the part of your drawing that you want to be able to return to. You'll use the ZOOM and PAN features to do this.
Choose View tab> Views panel> View Manager (the VIEW command) to open the View Manager dialog box.
Click the New button to open the New View/Shot Properties dialog box.
Type a name for the view in the View Name text box.
The View Properties tab defaults to using the current display, but if you forgot to display the right part of your drawing before you started, choose Define Window. You immediately return to your drawing.
At the  Specify first corner: prompt, click one corner of the view you want to save.  At the Specify opposite corner: prompt, click the diagonally opposite corner.
Press Enter to return to the dialog box.
Click OK.
Back in the View Manager, if you want to move to the new view (and you didn't display it at the beginning), click Set Current.
Click OK.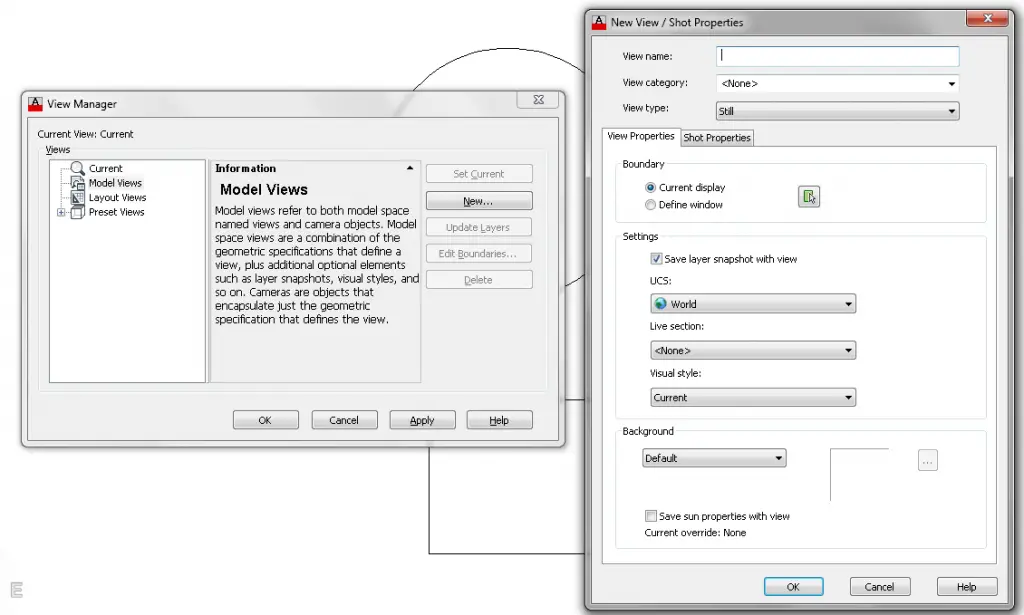 Display a view
There are a couple of ways to display a view that you've saved.
The quickest is to use the View Controls in the upper-left corner of your drawing area. (I think this feature was introduced in AutoCAD 2012.) You just click the View control, then choose Custom Model Views and then the view that you want. as you see here.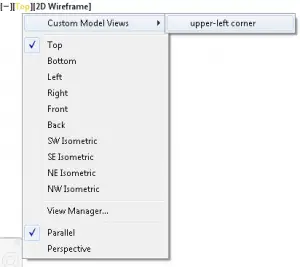 Another way is to choose View tab, View panel and choose your view from the Views drop-down list, as you see here.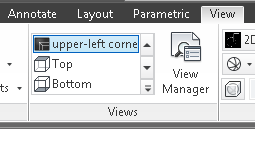 Do you use named views? Please share any tips!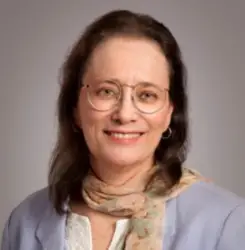 Latest posts by Ellen Finkelstein
(see all)