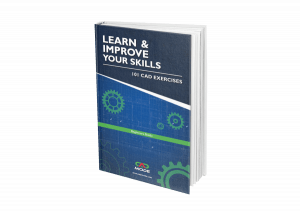 Viktor Rask has written a very practical book where he introduces 101 technical drawings to beginners or anyone who wants to improve their speed and efficiency in drafting. At this end of this article, there is a special code for AllaboutCAD readers to get this book at a discount price.
But first, let me introduce some background information of the author.
Viktor is a mechanical engineer from Sweden and just like you, he has always been interested in learning more about CAD. At first, he started watching tutorials on Youtube and trying his best to copy what they did. He even did a couple of CAD courses at my university. While he learnt alot from those experiences, it did not prepare him enough for actual work in the industry. His practical skills never improved.
When he first started working, he was a third of the speed his colleagues were… not because he didn't know how to do certain things but because he had no practice in drafting. His practical skills never improved from watching Youtube and reading theory.
After a while he finally figured out why… In his own words, he admits " I never actually put in the time to practice, I was too lazy to go around and measure things in my home and I couldn't find any technical drawings suited for my skill level online. I never practiced on actual technical drawings.
He puts his experiences and the exercises he had to do to improve his own skills in this practical e-book. While mainly aimed at beginners, this ebook also work wonders for individuals that do not consider themselves beginners but still want to improve their speed.
This book provides you with 101 technical drawings that you can practice your skills on to:
Increase your CAD proficiency.
Increase your confidence working with your preferred software.
Increase your technical speed.
The statistic says it all. About 80% of those that practice with this book see massive improvement in CAD speed in just a few exercises. This book is your "Go To" practice materials that will help you get better at CAD in a way that is interesting for you.
No more measuring things in your home before you can practice
No more finding technical drawings online that are way too complicated
Normal RRP for this ebook is $12.99. For the month of August and September 2019, use the coupon code "allaboutcad" to get the book for $9.49. That's over 25% discount. Click this link or the image below to find out more
(Full disclosure: we receive some commission for sales of this e-book)
Latest posts by Clement Hiew
(see all)